Windows 7 gives you to configure your computer for multiple users' accessibility with their own login id and password setting. New purchase computer with windows 7 gives you only one user accounts initially .However you can add an additional account for different member.

If you have account and forget password then you can solve this problem through manually or paid service or any free software.If you want reset your password manually then follow this article ,which gives you the idea to reset your password. How to Create and Use a Windows 7 Password Reset Disk
In windows 7 you can easily set up a restore point ,where you can undo the changes and reset your computer to an earlier times or date .If you want to get this features then follow the How to Set Up a Restore Point in Microsoft Windows 7 which I have discussed in this blog.

Step1: From start menu, click on control panel and you will get the instruction from control panel items by category. Confirm this by finding the "View by" drop down menu in the upper-right of corner the window and choosing "Category" if it is not already selected.

Step2: click on the User Accounts and Family Safety link and choose the account you would like to change appears.

Step3: create a new account under the list of user accounts. Choose the inside box labeled new account name and put the proper name that you would like to use to identify the new user account.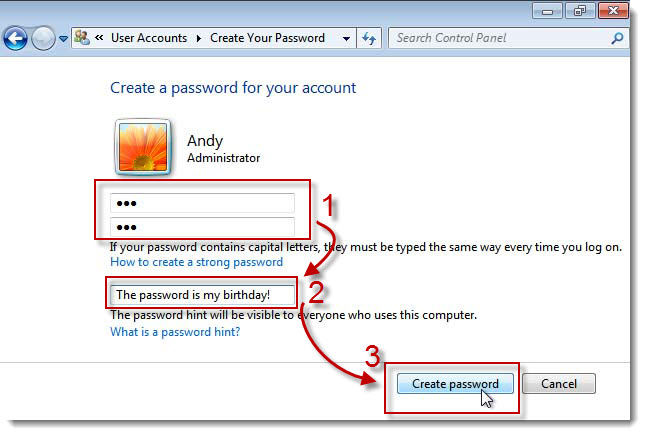 Step4: after completing the above steps, click a radio button to identify the new account should have standard user or administrator permission. Only an administrator can make changes to the configuration of the computer.
Step5: Click the Create Account button.
This creates the account and displays the user list again.
Then create password from the create a password icon.
Step6: Type the password that which you want to give for new user account.You also have the option of adding a "hint" (usually a word or phrase) that will be used as a prompt to help a user remember the password later. Click the "Create Password" button and the account is ready to use.
Note: If you are getting any problem from above steps then you can reach online technical support
from V tech-squad at their Toll Free No +1-877-452-9201.